Welcome to Red Deer Cottage
---
Come and relax in this peaceful self-catering cottage, open a bottle of wine, put your feet up, chill out in the calming den upstairs or unwind by the fire downstairs whilst planning your days and nights in Connemara, this stunningly beautiful part of Ireland.
Self Catering Accommodation in Beautiful Connemara
Situated down a private lane, Red Deer Cottage offers breathtaking sea views overlooking Ballinakill Bay and Tully Mountain near the Connemara National Park. The kitchen, dining and living area is a bright spacious open plan with wooden beams. Three clean luxurious bedrooms downstairs and the master bedroom upstairs offer stunning views. With an exceptionally well-kitted kitchen, wood burning stove, large flat-screen TV, Sky+ HD, DVD, surround sound, free wi-fi & separate hi-fi system and a smart TV upstairs, you will find it hard to leave the cottage!
Outside there is a wooden wind-shielded deck, dining furniture & BBQ – perfect for quiet al fresco dining with a picturesque view. It is very close to Letterfrack village (shops, pubs & restaurants), Connemara National Park, Kylemore Abbey, Clifden and Cleggan.
This delightful new cottage is cheerful and bright – just like its owner who, along with her sister, is a well-known traditional Irish fiddle player. Children are warmly welcome here. A baby's cot is available. The front garden is a large and safe area for kids to play in. This is a strictly non-smoking property.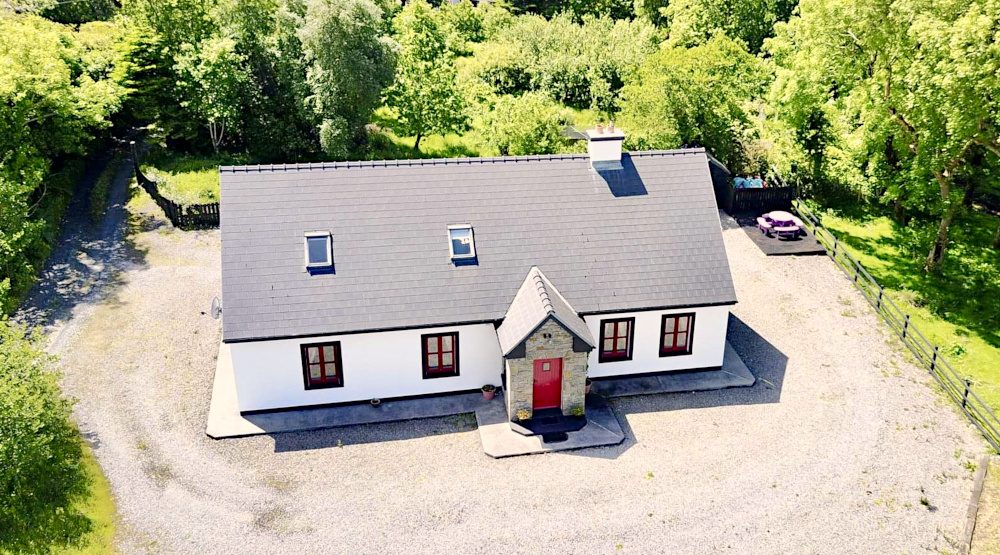 Review
"Red Deer Cottage is a real gem. This was our second holiday staying at this house. We stayed a few years ago before our daughter came along so we've seen how well the house works with or without children. The house is really comfortable, clean and well-equipped. Everything you need is there. The kitchen has everything you need to cook well which is great (and which is not always the case with rental houses). There are plenty of bedrooms and if you need to be downstairs beside your child there's a very good double room with an ensuite right next to where the children might sleep. All the bed linen is fresh, crisp, white and new. There are plenty of towels and a spacious utility room for all that kiddie washing! The living room is very cosy at night, with fresh turf in the shed for the stove and all the TV channels you might need. One of the perks of this house is the high speed internet connection. It never failed us, and this is great if you need to keep on top of work emails and so on (I know, I know, you're supposed to be getting away from it all!!). We love the location. This is the heart of Connemara – one of the most glorious spots in the world, whatever the weather. We drove to nearby beaches on sunny days – either to the stunning Glassillaun beach or to the smaller and really beautiful Eyrephort beach near Clifden town (both about 20 minutes drive). We also spent time at the little playground and tearooms in the Connemara National Park, which is about 5 minutes away by car, just as you drive into the local Letterfrack village (which has a very good supermarket). Entrance is free. There is a great walk/hike here too – all the way up to the top of Diamond Hill. There is a path all the way and it is worth the effort to get to the top – the views of the whole area are sensational! Clifden itself is about 20 minutes away by car and is a lovely town for a browse. We ate at Mitchell's Restaurant a couple of times, a very nice family run eatery in the town. There are good pubs in town and plenty of great traditional Irish music. The owner of this property – Liz (a very well-known traditional Irish musician) – is very quick to respond to any queries or requests and she runs a tight ship! We've always found her to be very helpful, warm and friendly. She has many return customers which speaks volumes about her house and service. In fact, her house is usually booked out a year in advance for the high season which says it all! We'll definitely be back!"
Fionnula & Conor McPherson – June 2014